There is nothing more frustrating for a seller on ebay than creating a new listing and the item just doesn't sell. Especially with new items, it is a disaster when a retailer is left sitting on a container with goods because the offer simply does not perform. I'll give you five reasons why your ebay offer is doing poorly.
1. No success on ebay – advertise
It's a sad realization for sellers, but the days when a little tweaking of your listing text could propel your listing to the top of search results are long gone. At least since ebay introduced the possibility of placing advertisements on a pay-per-sale basis, one is practically invisible on the ebay marketplace without advertising.
The proportion of my articles that were sold via an ad is constantly growing – as is the percentage of advertising costs. Items that I don't advertise at all, or advertise at a significantly lower percentage than ebay recommends, are virtually invisible and unsaleable
So if you want to introduce a new item, you have to advertise it on ebay. Here you will learn how to create an advertising campaign on ebay .
2. Ebay item does not sell – check category
Small mistake, big effect. It's often the simple things that keep your ebay listing from getting off the ground. One of the most common mistakes is having the article grouped in the wrong category. Keep in mind that according to ebay, up to half of searches on ebay go through the category structure. If your item isn't grouped in the category that the buyer would typically search for, you're invisible to a potential customer. All the more annoying as interested parties who search via categories are often more willing to buy than those who enter a search term in the ebay search.
The wrong category does not have to be your fault. In fact, ebay changes its category structure all the time. Categories are often omitted or combined with other categories and your article suddenly loads in a completely inappropriate category. Hence the tip: Check regularly whether your articles are grouped in the right category.
Extra tip: You can even group your articles into two categories. This increases your chances of being found by buyers and only costs a few cents a month.
3. No sales on ebay – add item specifics
A real ebay fetish are the item specifics that you have to or can add to your offer. eBay users can use these item specifics to filter search results. For example, a buyer is looking for a red North Face winter jacket. In order not to have to scroll through all the search hits, he filters the results by brand: North Face and color: red. If you are selling red North Face jackets but have not specified one of the two article features, your offer will not be shown to the prospective buyer.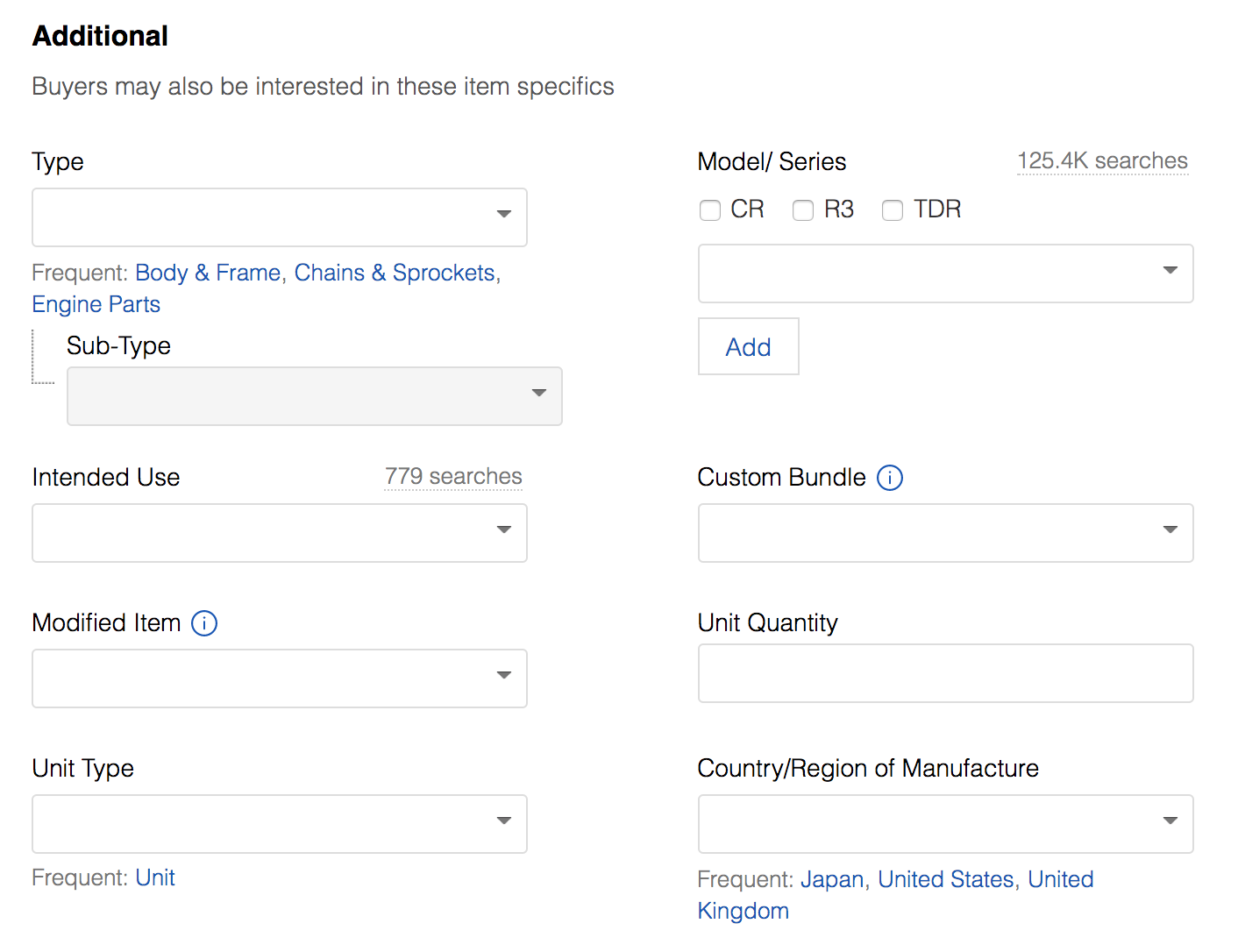 Above you can see only the required item specifics for the ebay category "men's fashion/jackets, coats and vests". Each category and subcategory has its own set of required and recommended item specifics. In addition, you always have the option of creating additional product features of your own. Put yourself in the shoes of a potential customer and ask yourself how you would filter search results if you were looking for your item.
4. No sales on ebay – create high-quality product images
A picture is worth a thousand words. This applies all the more to online trading on ebay. That's why ebay – like all other sales platforms – has strict rules about what is and isn't allowed in product photos. Do you actually know the " principle of ebay image standards "? If you don't know it, the probability increases that one or many of your product images violate these standards. The result: Items no longer appear in the search results, for example… and are therefore practically unsaleable.
To be fair, one has to say that ebay usually informs sellers about such violations and only threatens the consequences, but such an email from ebay can sometimes have been overlooked.
Here are the main things NOT allowed in product images on ebay:
Photos that do not accurately represent the item.
Placeholder images to convey messages.
Standard images for items that are used, damaged or defective.
Photos with an additional frame added.
Photos to which you have added text, graphics or marketing content.
Watermarks of any kind, including those used to identify copyrights.
If one or more of your listings are doing noticeably poorly, take a closer look at your pictures.
5. If it doesn't work on ebay – exclude identical offers
If none of the previous points get you anywhere, enter the item title of your listing in the ebay search. Ideally, you will now see exactly one item, namely yours. If you don't see one, you've obviously been kicked out of the search results. But it can also happen that you are shown two or more results with exactly the same pictures and text – only the seller is located in China, Spain or who knows where.
The risk of such guerrilla dropshipping increases if you use exactly the same listing with the same text and photos on Amazon. Unfortunately, it has become an annoying habit for such pseudo-sellers to automatically copy listings on Amazon and post them again on ebay – of course with a surcharge. If someone then buys the item on the fake listing on ebay, the fake seller buys the item from you on Amazon and thus abuses you as a fulfillment service provider.
In addition to illegality, such copying of your offer can, in exceptional cases, also lead to ebay considering the two offers to violate the principle of posting several identical offers – after all, an algorithm is only a human being and can sometimes make mistakes.
If you have the trademark rights to your item, you can have the fake offer removed relatively easily via ebay's VeRI program .
5 reasons why your ebay offer is doing badly – Conclusion
Sometimes the article is simply not competitive if a listing on ebay does not really want to ignite. But as a rule, it is simple technical errors that lead to loss of sales. With the five reasons given for a lack of sales success, you should get the doldrums under control.
You can read everything about Ebay and Amazon in my book " Selling Successfully on Ebay, Amazon & Co ", which I would like to recommend to every beginner. The book is a comprehensive guide not only for selling on Amazon but also for getting started with online business. From business registration, funding opportunities and tax issues to purchasing goods, packaging, shipping and payment solutions to marketing, search engine optimization and rounded off with lots of legal tips on consumer protection, trade and trademark law, this is the ultimate reader for beginners and advanced users in the world from Ebay & Amazon.