Suddenly finding yourself with a serious problem like a forgotten Apple ID can seem like the end of the world, especially as Apple password connects all devices and is required to use services like iCloud, Mail, Photos. Without it, many people find themselves practically cut off from an essential part of their life, private and professional.
If you don't know how to recover your Apple password, don't be afraid: the Cupertino company has thought of this eventuality, and in a few minutes you will be able to regain access to your account in case you have forgotten the access key of your Apple ID. The procedure is really simple for those who have access to at least one of their Apple devices since the Apple ID password reset can be done directly on it via a browser; if you don't have a device, for example, because it was stolen or lost, you can still recover your Apple ID password via the Find My iPhone app or Apple Support.
In the next paragraphs, you will find various solutions on how to recover the iCloud password, so we advise you to read each paragraph carefully and do not jump to the instructions immediately, so as to have a clear procedure to follow. Without delay, then continue reading and good luck to restore the iCloud password.
How to recover iCloud password via Find My iPhone / Find My
The easiest way to recover your Apple password in case of a forgotten Apple ID is to use the Find My app, formerly also known as Find My iPhone. This is an app that allows you to find the location of Apple devices in your possession or even those of friends, in case they are stolen or lost, but not only.
In fact, if we use Dov'è from one of the devices in our possession we can reset the Apple ID password by following these simple steps:
Download or open the app 

Where

previously Find My iPhone

From the login screen, delete any reference to Apple ID, leaving the field blank

Click on 

Forgot Apple ID or Password?

Enter the device PIN code

Enter the new password for the device and then again to verify it

Confirm that the password has been changed
How to reset Apple password via Apple Support
The Cupertino-based company has created an app dedicated to user support and solving the most common problems, including the rather common occurrence of a forgotten Apple ID. The best feature of this method is certainly the possibility of being able to reset the Apple ID password both with a device owned by us and with that of a friend or relative.
To reset your Apple ID just follow these instructions step-by-step:
Download the 

Apple Support

 app from the App Store

Open the app and click on 

Password and security

From the new screen, select 

Reset Apple ID Password

Press 

Start

Confirm the Apple ID for which you want to reset the password: if there is already one on the device you should see it in the list, otherwise select the option 

Another Apple ID

Follow the instructions on the screen to reset the password: if the account is present on the device, you will only have to enter the device passcode and enter a new password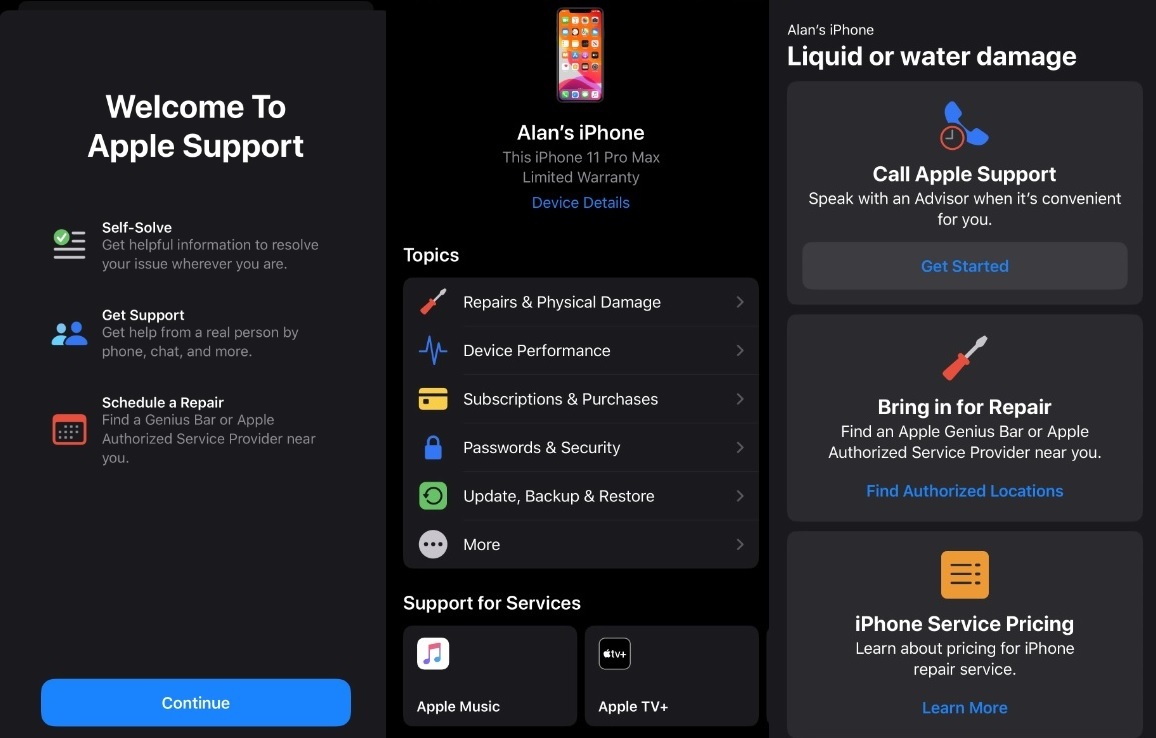 How to reset Apple ID via browser and phone number
On any of the Apple devices in our possession, such as iPhone, iPad, and Mac, we can easily recover the Apple password using the browser, as long as our phone number is recorded the data associated with the account you are trying to restore of the password. We can also carry out this operation on mobile devices using the Safari browser, by following these instructions:
From your device go to the 

login page 

Click on 

Forgot Apple ID or password?

On the new screen, enter your Apple ID

Click on 

Continue

Enter the phone number associated with the account

Click on 

Continue

A system notification will now be sent to one of the devices associated with the account

From your iPhone, iPad, or another device, press the notification received and follow the on-screen instructions to reset the password

Press 

Allow

Enter the device code

Type the new password in both fields and confirm it
Perform Apple ID password recovery via security questions
You have tried to reset your password using any of the previous methods with no success, and now you don't know what to fish for. It may happen that you do not have a device with your Apple ID on board, or that our friends do not have a product of the bitten apple, but do not despair: we can use the security questions to get back the password of their account. . To begin with we will have to:
Using a browser, navigate to the Apple ID login page

Click 

Don't remember your Apple ID?

Enter your Apple ID and press the Continue button

Depending on the information provided we can decide to reset the password in two ways:

Answering the security questions

 or 

Receiving an email

Select the most convenient option and follow the on-screen instructions

Once the process is complete, we will receive a notification that your password has been reset
How to fix lost or forgotten Apple ID password problem forever
In the future, you may need to follow our guide again if you are not careful about memorizing your account login credentials, but we can share a trick with you that will help you never have such problems again. Using a password manager, or password manager, requires you to remember only a master password: we can in fact keep all the access keys of services and apps.
If you are curious, know that we have created a guide to the best password managers, so as to allow you to find the password manager that is right for you. ICloud itself acts as a password manager, saving the login credentials of websites, apps, and services for you, keeping it all in a secure space called iCloud Keychain. Remember, however, that it is always a good rule to use at least one other service to save your credentials so that you can recover them in case you no longer have access to your iCloud account.